I've been meaning to write about these for, like, a week, so here they are. We've got them all open on a shelf near the counter and the smell is just heavenly!
Lumiere Candle Co.
is a company out of Ohio that specializes in hand-poured aromatherapy candles. They pride themselves in using recycled materials to make their products, as well as creating strong, clear scents. We have 9 different scents in stock, all autumn- and winter-y for burning in the next couple of months.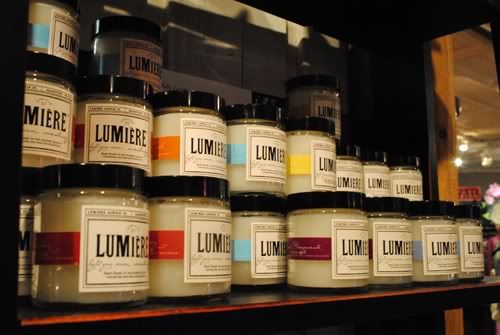 Vetiver Root: "pounding across a high mountain pasture on horseback"
Amber Dusk: "a warm blanket by a fire, sun on skin"
Honey Pear: "ripe pears picked moments ago, still warm from the sun"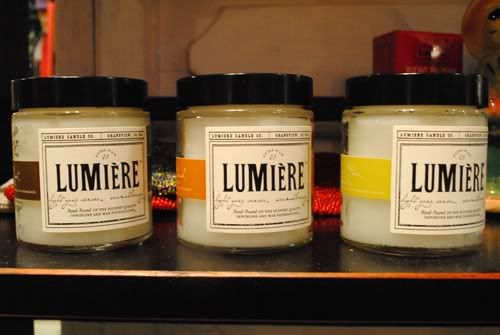 Winterberry: "joyful holiday gatherings with family and friends"
Vanilla Cream: "a long-awaited, much-desired rich dessert"
Restorative Lavender: "a calming massage at a villa in Provence"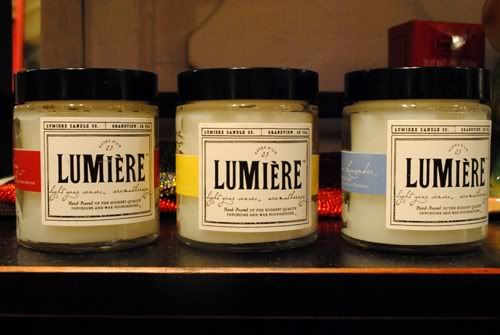 Winter Wind: "snuggling under a warm blanket in front of a wood fire"
Exotic Pomegranate: "exotic trips with the one you love, carefree indulgences"
Sacred Gold: "exotic trips to ancient lands, a mirage on the horizon"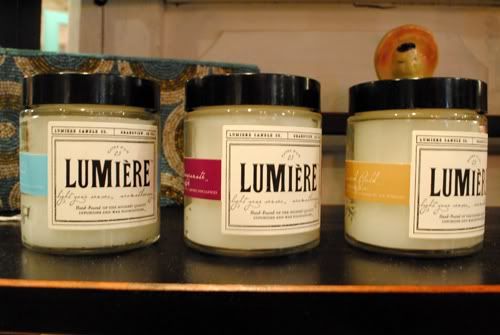 Each candle is about 4 inches tall, so these would make great little stocking stuffers. My favorite is Restorative Lavender, which Lumiere advises using as "an aid for meditation and long naps; nice for hot bath." Come in and give one (or two, or six) a sniff!