Friday night, downtown Prescott held a musical event spanning all the shops and restaurants around the square.
Acker Musicians' Night
is a showcase of local musicians and singers who camp out at different stores and make beautiful music for the evening's shoppers, and also raise money for performing arts programs in the local schools. It's a Prescott tradition and the downtown area was positively packed with people, many of them sporting the most horrendously awesome Christmas sweaters.
The act in Bashford Court was a ladies barbershop quartet, Just 4 Kicks. They wandered about the floors serenading everyone with holiday classics, and they even stopped in Hop Sing for a sip of cider.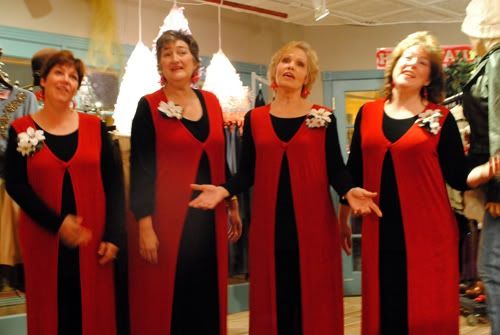 We had a steady crowd all night, and lots of fun trying on dresses and boots and flinging candy in all directions.
Still got a bowl full of peppermints to share...