There's something a little different in today's post. In addition to great clothes and accessories, Hop Sing also carries various cosmetic items. To go with our colorful, eclectic clothes offerings, we're now carrying Heritage Products' flower water sprays.

We have four of these all-natural scents in stock: lavender, rose petal, plumeria, and gardenia, and all of them are fresh and divine. And at $6.95, you can try two or three (or all four!) in one go. Feel like having a garden in your house in the middle of January?

According to the label, these sprays contain "vor-mag" ("vortexed and magnetized to raise the energy to a higher vibration") water, which sounds like a mouthful and I'm not totally certain what it means. o_O What I do know is that all of these perfumes smell heavenly.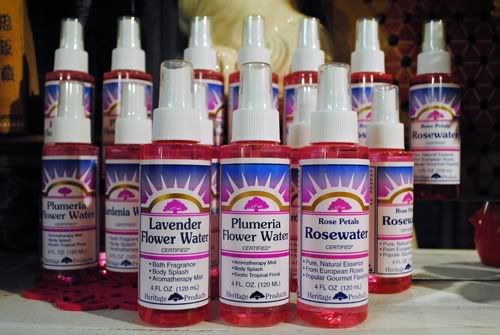 Give the lavender a spritz into your bath for a relaxing aromatherapy effect. Or the gardenia for a bright and delicate room spray...




Or use the rose water in your cooking! No kidding! Rose water has been used as a flavoring in pastries, syrups, and other dishes for ages. Perhaps give it a try in this recipe for a fun cocktail called the Hibiscus Royale:



2/3oz. hibiscus syrup




1/4oz. rose water




champagne




a sprig of mint




a candied hibiscus bloom





Muddle the mint in a champagne flute and discard (squash some leaves around inside the glass). Place the hibiscus flower in the bottom of the glass and stand it upright. Add rose water and some bruised mint bits. Top with champagne. Carefully pour in the hibiscus syrup which will graduate from crimson at the bottom to light pink at the top.



Can't do with champagne quite yet? Try it with a sparkling cider. Happy New Year indeed!