Do you consider the "Brand" you're buying as being superior to another brand? I personally consider this concept with almost every purchase I make. In my life extreme thought goes into all my purchases. Like you, I demand the best bang for my buck in everything I buy!
I've been loyal to my favorite products for many, many years. Most are not the most expensive in the big picture, and in my opinion are superior in performance to similar products often times more expensive. These products are what I refer to as "my favorite indulgences" and they're available year round in Hop Sing's personal care inventory because simply, I can't imagine not having them in my life!
Thayers Witch Hazel Tonics: Made in the U.S.A.
Flower Power! Rose, Lavender, Peach...
Made of extract from the Witch Hazel shrub (Hamamelis Virginiana) and a blend of other time-tested ingredients - THAYERS® Witch Hazel with Aloe Vera Formula Astringents and Alcohol-Free Toners are soothing, natural treatments that cleanse, tone and soothe your skin. THAYERS® are the ONLY Witch Hazel products made of non-distilled extract from the Witch Hazel shrub maintaining the highest levels of therapeutic tannins.

An Orchard in a Bottle. Thayers Peach Witch Hazel with Aloe Vera Formula
is nectar for the skin. It's got all the soothing properties you'll come to love. Aloe Vera Formula Astringents, with a gorgeous, fresh-off-the-tree scent. Check out this ingredient list! Thayers Proprietary Witch Hazel, Peach leaves, Orange Flower, Tangerine, Kiwi, Passion Fruit, Vitamin C, Aloe Vera, natural grain alcohol as apreservative (10%) and an Emulsified All-Natural Peach Fragrance
Thayers Rose Petal
Alcohol-Free
Witch Hazel with Aloe Vera Formula Toner will make your skin bloom. Rose Thayer's remarkably soothing Toner is made with rose-petal water, Vitamin E and our proprietary Witch Hazel extract. Toner with Aloe Vera Formula with Vitamin E 12oz bottle Ingredients: Ingredients: Purified Water, Aloe Barbadensis Leaf (Certified Organic Filet Of Aloe Vera), Glycerin (Vegetable), Fragrance (Natural Rose) Hamamelis Virginiana
Lavender Alcohol-Free Witch Hazel formula: Treat yourself to a spa in a bottle! Ingredients: Purified Water, Aloe Barbadensis Leaf (Certified Organic Aloe Vera), Glycerin (Vegetable), Fragrance (Natural Lavender), Hamamelis Virginiana (THAYERS® proprietary un-distilled Witch Hazel) Extract, Lavandula Angustifolia (Lavender) Flower Water,... stress be gone!
About Mountain Ocean:
Pioneers of body care products containing abundant whole natural ingredients. They have proven to be safe and unique with effective results for over
35 years
. Made in Boulder Colorado. Family owned & operated.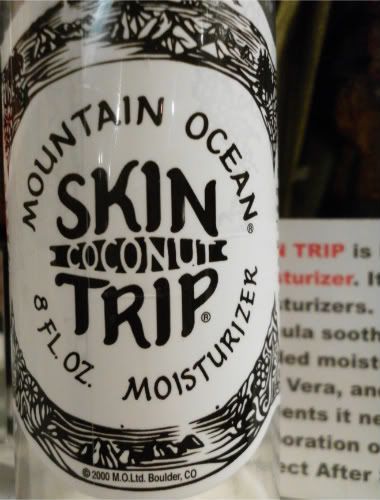 SKIN TRIP is Mountain Ocean's original coconut moisturizer
. Its light, smooth feel is unique among skin moisturizers. This extremely fast absorbing, non-greasy formula soothes, protects and quickly replenishes needed moisture to dry skin. Blended with Coconut Oil, Aloe Vera, and Lanolin, Skin Trip gives your skin the nutrients it needs and effectively reduces the natural evaporation of moisture from your skin. pH Balanced. Perfect After Sun, After Shower, After Shave, Anytime!
French Soaps
Absolute Bliss! Hand-forged Savon de Marseille Soaps with crushed flowers and pure fragrances of Lavender, Orange Flower, Rose Petals & Lemon Verbena. World famous and made especially for you. Once you try these big luscious blocks you'll be hooked! Must try with our very special "Agave" wash cloths! Gentle exfoliation and moisturizing Olive Oil = happy, glowing skin!
Stay tuned for the next installment of Hop Sings favorite "Specialty" indulgences!